A GREAT BIG THANK YOU TO ALL OF OUR SPONSORS
WHO MADE THIS DAY A SUCCESS!
TURNER CONSTRUCTION – Platinum Hawk Sponsor
PROVIDENT BANK – Gold Hawk Sponsor

STEVE NOVELLO, '84 – Luncheon Sponsor

ALL ACCESS STAGING & PRODUCTION – Breakfast Sponsor

I.A.T.S.E. LOCAL ONE THEATRICAL STAGEHANDS NYC 
ROSE BRAND THEATRICAL FABRICATIONS & DRAPES
GELTRUDE & CO. – PAUL MLYNARSKI, '84

Thomas F.X. Bender Jr., '69 – Kevin Lynch, '69 – Nu Way Concessionaires – 
Joe DiCorcia, '76 – Hugo Carvajal, '04 – Hawk Drama Society – Donohue, Gironda, & Doria – Strulowitz & Gargiulo
McLaughlin Funeral Home – Midtown Auto Repair – Healy's Tavern – Geltrude & Company –
Jersey City Police Officers Benevolent Association – Goodman, O'Malley, Rosimilia, Voorman & Fass, LLC  
DTG Consulting – LOCAL O – Joe Gottlieb – Terry Dunleavy
Radio City Music Hall Stagehands – Alice Tully Hall Stagehands – Wyatt & Clint Walker
The entire Alumni Family also wants to thank our retired teachers who hosted the Luncheon. A heartfelt thanks to Br. Luke Maher, Br. Patrick King, Frank Becht, Sr. Eleanor Ustach, Mrs. Rose Perry, Mrs. Angela DiBellis and Tim Eigo who join us for a few laughs and great fun on a sunny afternoon at Galloping Hill Golf Club. God Bless you all! Hudson Catholic…Forever!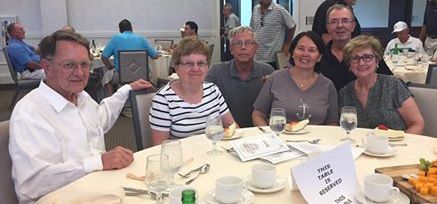 "St. John Baptist de LaSalle pray for us. Live Jesus in our hearts forever!"