The over 325 "Sons and Daughters of the Black and Gold" turned out for a joyous celebration this past Saturday night at the 50th Anniversary Gala. Among the guests were current and former lay faculty and of course our Brothers, front and center in the celebration.
In this photo we have three of the "founding Brothers" who were  at 790 Bergen Ave. Can you guess which ones they are. Hint they were with us in 1965 when the school moved into the new buildings from its home at St. Patrick's Grammar School, in 1964.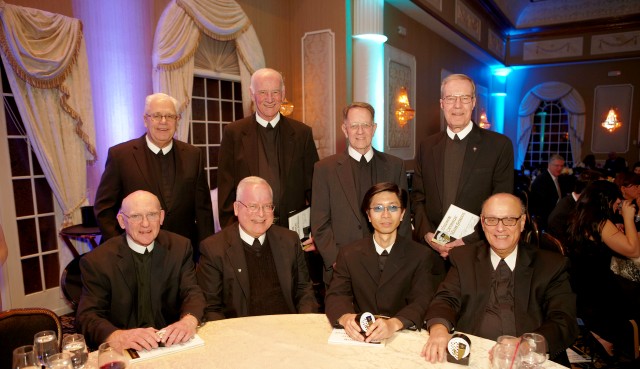 Father Larry, Br. Kevin Stanton, Axillary Bishop Thomas Donato, Br. Tim and Br. Mike Kramer

And a very welcome "new" addition to the Hawk family, Archbishop Bernard Hebda sitting along side his and our former principal Br. Luke Maher along with Br. Charles Barbush and Br. Patrick King.
Please use the following link below to view all of the great photos that Jim Salzano, '69 took at the 50th Anniversary Gala celebration.