Just as the "Polar Plungers" were about to take a dip in the roaring North Atlantic surf a break in the clouds sent a beautiful rainbow across the beach in Long Branch. Thanks to our loyal Hawk plunger from the class of 1980, John Klapouchy, the pot of gold at the end of the rainbow was filled with $1,330.00 dollars for our Alma Mater, Hudson Catholic.
Thanks to the Ancient Order of Hibernians Division 2 Monmouth County for organizing and sponsoring the Polar Plunge for Catholic Education!
And a very special thanks once again to John for taking the plunge and raising the funds for Hudson Catholic.
God Bless your loyalty and courage in the roaring surf!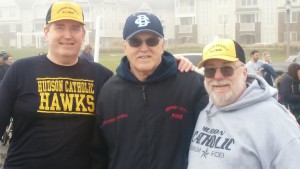 Just before the plunge a very familiar face to all Hawk Alumni, Br. Tim Ahearn
stopped by to wish John luck along with alumni Vice President Larry Basinski.