"All Strings Attached"
Alumni Spotlight on Joe Colicchio ~ Class of 1970
Now available AT AMAZON.COM and other book-selling websites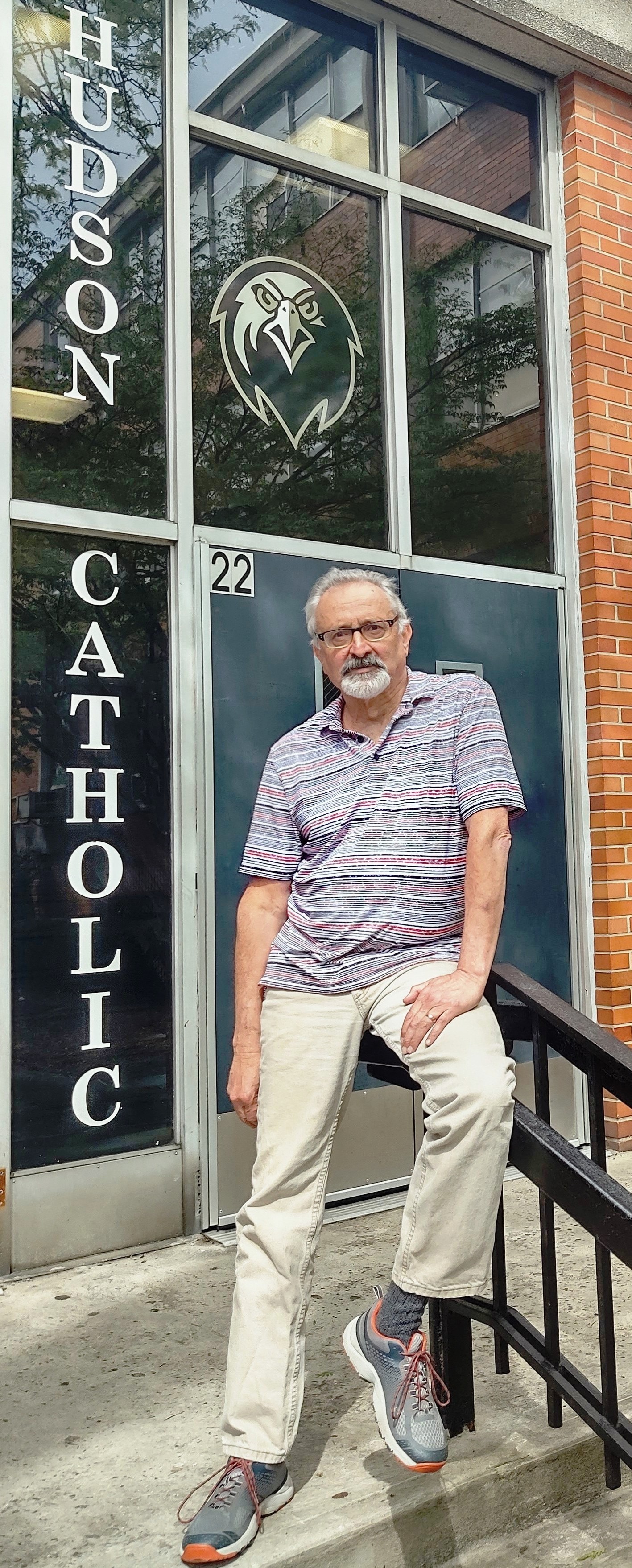 When Joe Colicchio began at Hudson in 1966, so he told me, he didn't have a clue. When he graduated in 1970, he still didn't have a clue. And when I asked recently, in 2022, Joe told me, "Some things don't really change." This dumbfoundedness, along with, on some days, a desire to, on other days a desperation to, make sense of things—of "all of it"–is one of the primary traits that has driven him to be a writer: "If you know a kid who wants to be a writer, advise them to follow the dumbfounded path."

A related trait that goes into making a writer of someone, Joe explained, is the urge to create composition (with its narrative direction and momentum, its discernible cause and effect, even its juxtaposed contradictions) out a chaos. Composition, though. That's what Joe said it was all about, creating a multi-dimensional composition—the more "multis" the better.

After a five-year hiatus in Massachusetts, Joe returned to Jersey City in 1982, and in 1985, began working at Hudson County Community College. Thirty-three years later, in 2018, Joe retired from his professorship but continues to teach at HCCC part-time. The years from '85 to the present have been dominated by the love of his wife Pat and kids Jack and Roy and his dedication to the students of HCCC. Lucky at both.

When I mentioned to Joe that now, with this new novel All Strings Attached, he's written four, Joe corrected me: He's written eight novels, he's published four. The first three were set in Jersey City. In 1981, Joe self-published As Told By Monk. Monk, which Joe wrote while in his twenties, was a love song to his family, his friends, his childhood, and his hometown. In 2000, High Gate Health and Beauty came out, an urban crime drama set in a just-beginning to gentrify Jersey City which was recognized as one of the Top Ten Novels of 2000 by MOSTLYFICTION.COM. Then in 2004, there was The Trouble with Mental Wellness, a dark comedy about a psychologist named Nicky Finucche whose incompetence leads to trouble and tragedy.

Joe began working on All Strings Attached in 2009 and completed it in 2021. Why so long, I asked. "In 2010, I got sick," was his answer. Joe believes the novel's genesis derived from overlapping factors he was trying to come to grips with: his lifelong conversation (some might call it "argument") with God; his experience of visiting older relatives in Continuing Care Facilities; the very alive spirit of his 20-something self alongside his imagined 80-year old one; the bold discrepancies between those two ages, but, more importantly, the subtle, frequently invisible and profound connectedness between them.

All Strings Attached is set in the summer of 2008. Two brothers, Tommy, seventeen, and Alex, twenty-two, set out on entirely new and entirely different experiences. Tommy is completing a summer internship at a Continuing Care Facility for the elderly; Alex sets out on one of those youthful cross-country trips of adventure and discovery—both journeys into new territory: one confined, one open country. What are the qualities that set All Strings Attached apart: His poignant, biting, hilarious characterizations; his ability, in a sentence, to transport the reader to locale after locale—a nunnery, an folk festival outside Fremont, Nebraska; a rescue at Starvation Lake, UT; and it's his marvelous ability to imbue a page of writing with soul, depth, and immediate familiarity.
Early reviews for All Strings Attached have been strong. From Breadloaf Bakeless Award Winner Mary Jane Nealon author of Beautiful Unbroken: "The 'world,' we are reminded, is in all of us, all extremes of tragedy and faith are confronted by everyone. Colicchio is exquisitely talented at giving us characters who are real, in voice, in description, and in their quirky behaviors"; from National Book Award Finalist Mary Ann McGuigan author of Where You Belong: "Regardless of whether the action is comedic, tragic, uplifting, or foreboding, the reader always feels they are in an entirely familiar world, one tied together by love and our shared human condition." And from Kirkus Review: "Colicchio is a natural storyteller. . . . An engagingly heartfelt . . . pair of coming-of age stories."

All Strings Attached is available at AMAZON.COM and other book-selling websites. Readings and other book-related events are currently being planned.